Greetings, Ravens!
The Geppetto Update marks the first content Update for Ravenswatch since the launch of the game in Early Access, and it's available NOW FOR FREE on Steam!
Make room for Geppetto – the Italian woodcarver, and father of Pinocchio – with his atypical gameplay style!
Watch the Geppetto Update trailer
Update the game on Steam right now to get access to Geppetto and a ton of other new content for Ravenswatch! Read the patch note down below for an extensive look at what's new and what changed.
Ravenswatch is currently 10% off on Steam until June 5th, don't miss it:
:: Patch note - Version 0.13.00 ::
🐦 = Community feedback/reports
⚠ DISCLAIMER: Some texts are not yet translated into other languages. We will add localization in an hotfix in the upcoming days. We apologize for any inconvenience.
New features
New Hero: Geppetto joins the Ravenswatch!
+ 4 Abilities + 1 Trait
+ 14 Upgrades
+ 2 Ultimates
Additional Ultimate abilities:
+ Scarlet: GRANDMOTHER'S SOUVENIR / IN THE BELLY
+ The Pied Piper: PLAGUE OF RATS
+ Beowulf: RAGING CHAIN
+ Snow Queen: SNOW STORM
+ Aladdin: MAGIC CARPET
+ Melusine: WISP BALLET
🐦 New Teleport System: Teleport yourself from anywhere using the TAB / Back button, access the Mini-map, and choose a Teleport mark to land on.
New Voice lines:
+ Added more barks and voices lines for all heroes
+ Scarlet's Wolf form now has voice lines!
New Dialog system: Heroes can now exchange short dialogs together during quiet moments
New Magical Objects icons: All the Magical Objects and Consumables now have unique icons!
🐦 Pigs' quest HUD revisions: We adjusted the Pigs' quest interface so it's now clearer and neater
🐦 Tooltips: Added better tooltips for ATTACK, POWER, DEFENSE, etc. on abilities and Upgrades (still a work in progress)
Heroes adjustments
Scarlet, Piper, Beowulf, Snow Queen: Fixed some upgrades displayed information not taking into account DMG modifiers
Scarlet:
+ Removed inertia when aiming with the mouse with 'Distant Blows' upgrade
+ Will not passively transform during an interaction anymore
+ Fixed Aggressive Defense damage not scaling correctly with DMG value
Beowulf:
+ Improved control on Special so Beowulf can orient quicker during the ability, including with the 'Bladestorm' upgrade
+ Fixed damage calculation for 'Fiery Seismo' upgrade, which gave higher damage per hit than expected
Aladdin:
+ 🐦 Second Wish now spawns Consumables instead of Magical Objects
Design notes: Aladdin's capacity to generate Magical Objects with his second wish could really go off limits in terms of power and was simply too much, especially in Multiplayer. Offering Consumables instead is a way to keep the idea of empowerment with the Wish, but it's more reasonable and controllable. We may even think of making some unique ones for this wish in the future!
+ Third Wish Shield cannot stack with itself anymore
Melusine:
+ Cannot use Contextual Interactions anymore while in Sing Stance
+ 'Protective Flow' Upgrade's Shield base value adjusted to 8 (from 10)
+ 🐦 Fixed a bug that could allow 'Underwater Predation' effect to last after defense is interrupted
Balancing
Healing Upgrades: Healing upgrades do not scale with DMG anymore (Piper's 'Perfect Harmony', Aladdin's 'Healing Blades', Melusine's 'Spring Water')

Design Notes: Healings produced by abilities were incorrectly scaling with the damage they dealt, making those abilities snowball too much in terms of value when upgraded/improved by DMG. Those healings still scale with Hero Level and can still be improved with the Mermaid Tears object.

Healing Orbs: Healing orbs now heal a fixed portion of Health instead of a % of maximum

Design Notes: Healing a % of maximum health results to be more and more valuable as Heroes level up and gain vitality, thus making Heroes even more potent as they get more powerful and this could make advanced trials easier than expected. It was also a disadvantage for Heroes with a lower health pool, making them even more vulnerable at early stages of the game. Healing orbs now always heal 20 HP until Nightmare 4 difficulty where it is reduced to 10 HP. Those values are still improved by the Mermaid Tears object.

Enemies: Now have a shorter delay in making their first attack

Design Notes: Enemies were in general a bit slow to start attacking when entering combat, and some of them had trouble even attacking one time sometimes. This will encourage players to think about their engagements and make the enemies a little more dangerous.

Treants: Will now chain swipe attacks when they hit a Hero up to 4 times (from no limit)

Magical Object – Faerie Dust: Lowered Shield increase to +25% (from +50%)

Design Notes: Shields in general are very valuable, and even this objects is specific to Heroes having access to it, the result was too high.

Magical Object – Vajra: Lowered damage dealt to 40 (from 50)
Fixed bugs
Crashes:
+ 🐦 Fixed a crash where the game would become unresponsive when Inventory or a Grimoire interface were triggered at the same time as a Teleport
+ 🐦 Fixed a crash when a player attempted to revive another player while still attacking continuously
+ 🐦 Fixed a crash when a player would hold the right mouse button while teleporting to any Raven's mark
🐦 Revived Heroes: Fixed an issue where a player could be revived with 0HP after being teleported to a Tumor or Boss fight
🐦 Snakes: Fixed an issue where Snake Nightmares would teleport outside of the Tumor or Grimoire challenges
SFX: Fixed an issue where The Pied Piper would whistle after every dash
Enemies: Fixed an issue where some enemies' shadows were still displayed a few seconds after they disappeared
🐦 Pigs' quest: Fixed an issue where resources would still be visible to Peers after the end of the quest
🐦 Lobby: Fixed an issue where players would not see their gametag in the lobby
Localization:
+ 🐦 Fixed an issue where the Sandman's shop was not fully localized in all languages
+ 🐦 Fixed an issue where special Polish characters were not displayed
:: Early Access Roadmap ::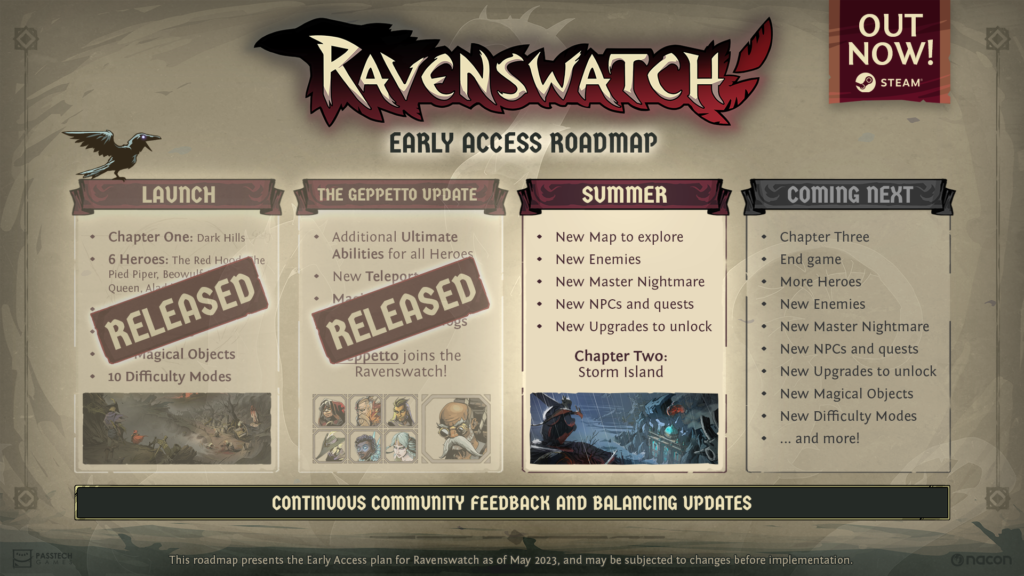 Our next update will be one of the biggest we make during Ravenswatch's Early Access, it's also game-changing as we bring a whole new Chapter to explore and much more! You will soon reach the deadly shores of Storm Island, a whole new area with new environments, enemies, and bosses!
Adding a new Chapter also means updating the game's loop as you will be able to level up your Heroes even further and continue your journey to save Reverie! Be ready for a whole new challenge.
Our main focus and priority are to deliver a good and stable experience for all players, in solo and in co-op. We are tackling bugs and crashes that have occurred during playtests and that have been reported by the community. More patches will be released to improve the quality of the multiplayer experience as well as the general game experience.
While we're hardworking on The Storm Island Update, we are also working on other features requested by the community and upcoming content for later Updates. Our goal is to release the Storm Island this summer (window from June 21st – Sept. 23rd) and we'll communicate a release date when we'll have more visibility.
Follow us on social media to not miss anything!